December 6 is the National Day of Remembrance and Action on Violence Against Women.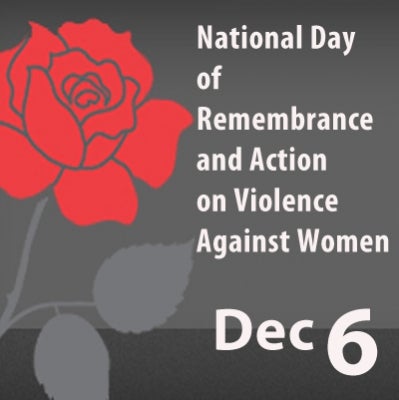 We mark the anniversary of the murder of 14 young women in 1989 at the University of Montreal's engineering school, killed because they were women. We also pause to remember the women in our community, our country and around the world who have died as a result of gender-based violence or who continue to experience violence in their lives.
"First mourn, then work for change" – the inscription on the December 6th monument in Riverview is also a call to action.  It's time to reinforce our commitment to end the violence that still reaches into our homes, our communities and our workplaces. That means identifying and tackling the systemic inequalities that fuel gender-based violence. More action is needed on many fronts:  improved policing and judicial responses, better services and supports for victims, including initiatives for access to employment, decent income and pay equity. More focus on prevention is essential, encouraging men to examine their own behaviour and to speak out against aggression.
What can you and your local do to make a difference?
BATHURST: Commemorative Walk and Action to End Violence, Wednesday, December 6, at noon. The walk will start in the empty lot next to the Royal Bank and continue on King St., St. George St., Douglas Avenue and Main St. It will be followed by a short ceremony at Place Eve (219 Main St.) Coffee and tea will be served.  For more information, phone: (506) 546-9540 or email: maisonpassagehouse@gmail.com  Organized by Outreach to Women and Families Victim of Violence, Maison de "Passage" House Inc., Bathurst Youth Centre & Nepisiguit Family Services. 
FREDERICTON –  Memorial ceremony, Tuesday, December 5, 2:30 p.m, University of New Brunswick – Fredericton campus, Dineen Auditorium in Head Hall, 15 Dineen Drive. The event will feature talks from Dr. Carmen Poulin, Dr. Lori Leach and Dr. Katy Haralampides. A reception will follow in Dineen Auditorium. Hosted by the UNB  Women in Engineering Society.
MIRAMICHI –  Vigil, Wednesday, December 6, 12:30 p.m. to 1:30 p.m. at NBCC Miramichi, lecture theatre 1145. For more information, call Jessica, (506) 778-6496.
RIVERVIEW –  Commemorative event, Wednesday, December 6, 6:30 p.m., Fr. Dan Bohan Centre, 5 Fatima Drive (next to Riverview Town Hall), followed by a candlelight vigil and laying of the roses at the monument at Caseley Park. A special collection of women's personal care products will be collected at the door. Organized by the December 6th Committee of the Moncton and District Labour Council.  For more information: phone (506) 852-9609.
Saint-ANDREWS – Commemorative coffeehouse, Wednesday, December 6, 6:30 p.m. – 8:30 p.m., NB Community College, 99 Augustus St., hosted by the Charlotte County Abuse Prevention Network and Wesley United Church. The event will include live music, student art and refreshments. For further information, phone Charlotte County Community Outreach at (506) 469-5544.
SAINT JOHN –  Memorial Service, Wednesday, December 6, 7:00 p.m. – 8:30 p.m., at UNB Saint John's Grand Hall, King's Square, 40 Charlotte St.   Representatives from the Sexual Assault Response team, the Female Empowerment Movement, the Domestic Violence Outreach program and the Coverdale Center for Women will all be speaking on current issues affecting women in the Saint John and surrounding area. Musical offerings will also be provided by Brent Mason, Tricia Wilson and Jillian Wong. The evening will end with a short candle-lit vigil from the Grand Hall to King's Square. For more information, contact Norah Siddall at 721-0900 (norahjsiddall@yahoo.ca) or Chris Doran at 648 5729 (doran@unb.ca).
SHIPPAGAN:  Commemorative Walk, Wednesday, December 6, departure at 12:45 p.m. from the Shippagan campus of the Université de Moncton. Before the Walk:  Kiosks, 10 a.m. to 3 p.m.; Christmas lunch with special guests, 11 a.m. For more information, contact Émilie Haché, phone (506) 395-7632 or email tablecontrelaviolence@gmail.com  Organized by the Table de concertation pour contrer la violence familiale et conjugale dans la Péninsule acadienne and the Comité permanent de la situation féminine de l'UMCS.