It's not always easy to hold a protest at noon on a snowy weekday, but CUPE NB took up the challenge last Monday. On December 11, some 175 people gathered with signs at Prime Minister Brian Gallant's constituency office in Dieppe on Monday, December 11. All were demonstrating against the Liberal government's leadership on health care in New Brunswick. CUPE NB stood side by side with community groups, students, seniors and many others to say no to Sodexo and Medavie.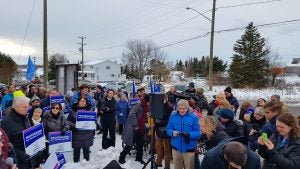 "The privatization of extramural and Tele-Care management at Medavie is as frustrating for citizens as the privatization of food management for cleaning and patient transportation," said Daniel Légère, President of CUPE NB.
Victor Boudreau, now ex-health minister, explained that privatization would not be a "cost-cutting exercise". His successor, Benoît Bourque, has not denied this but still refuses to disclose the terms of both contracts to the public.
The province has been negotiating with Sodexo, a for-profit company, since 2014. However, there are rumours that the Sodexo case could be turned due to unforeseen costs.
Medavie Health Services, headquartered in Dartmouth, Nova Scotia, is scheduled to take over the management of the Extra Mural on January 1, 2017. Medavie has been awarded a 10-year contract without having to switch to through a tendering process or an ordinary tender. The CBC reported that the expected cost of transferring the transactions will be $ 4.4 million for the first year.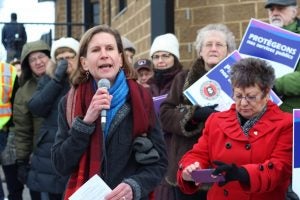 Jennifer McKenzie, NB NDP Leader, attended the event. "It's not just about ending privatization, it's about reversing it, reversing the damage," McKenzie said.
Representatives from the Société de l'Acadie du Nouveau Brunswick rightly noted that "it was problematic that an insurance company, Medavie Blue Cross, would now get access to thousands of patients' health files".
As of today, Medavie and its subsidiaries (including Ambulance NB) have not been subjected to impartial external (rather than internal) performance evaluations of their public-private contracts.