CUPE NB applauds the provincial government's investment to enact free childcare for low-income families and raise salaries of early-learning and childcare workers.
"This is a step in the right direction. Low income single-parent families are the ones who will benefit the most," said Daniel Légère, president of CUPE NB. "More spaces, more accessibility, lifting people out of poverty…This is certainly good news," said Légère.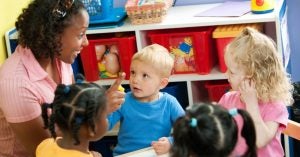 However, families with an annual gross income over $37,500 (pre-tax) will not qualify for the Free childcare program. "I am troubled to notice how two parents, with full-time minimum wage jobs, will not qualify for the program," noted Erin McAllister, NB representative on CUPE's National Child Care Working Group.
Families earning over $37,500 could, however be eligible for targeted childcare subsidies, following a sliding scale.  Province-wide implementation of this subsidy system is scheduled for March 1, 2019, six months after the coming 2018 provincial election.
"I hope the principle of universality in child care becomes a reality in our province. Universality means everybody has access, regardless of ability to pay, but everybody chips in their measure through a fair progressive taxation system. Unlike sliding scales, it is simpler, it reduces red tape and does not penalize any parents," said McAllister.
CUPE, anti-poverty activists, professionals and academics recognize how making childcare accessible to all is among the best investment government can make, both socially and economically.
CUPE's National Child Care Working Group advocates for universal, affordable, not-for-profit, regulated, high quality, unionized child care.