Fredericton, NB – September 19
CUPE Local 1190 held a press conference to invite the provincial government to accept the recommendations of a Conciliation Board in the ongoing round of contract talks.
"We have gone around the province to consult with our members, and they accept these recommendations. It is not everything we asked for, but it is reasonable, and the province should have no problem with it," said Brent Wiggins, President of CUPE Local 1190. "We invite the employer to recognize this neutral third-party report and follow its recommendations," he added.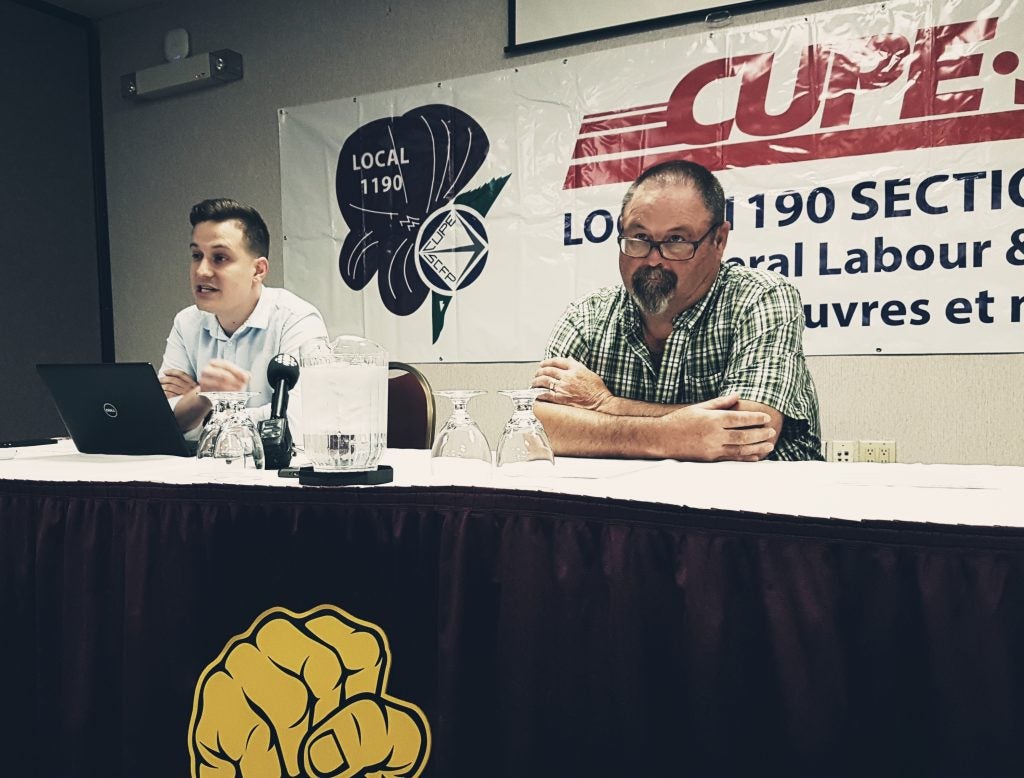 The Union and Government have been bargaining since 2017. Both parties presented their arguments before a Conciliation Board appointed by the NB Labour and Employment Board. The Board chair, Mr. Bladon, recognized in his report that several monetary adjustments and contract language changes should be made, such as:
12% wage increase over 4 years (3% per year);
Standardized treatment of casuals in the bargaining unit;
Boot allowance increase to $175 and tool allowance increase to $350; &
Respect of seniority for job postings
The Government has proposed a wage package of about 0.75%/year, plus up to an additional 1% if the Union agreed to "improvement benchmarks" identified by the employer – such as reducing the number of sick days used by employees. The Board chastised the Government's wage proposal as "unrealistic" and went as far as saying it "eroded the trust" between the Union and the employer.
"Management should listen: Local 1190 members have not had real wage increases in years, and that must change," said Wiggins.
To this date, the employer has yet to show any willingness to consider the report. "I hope the Government acts instead of reacts and stalls. Workers have waited long enough," concluded Wiggins.
CUPE Local 1190 represents over 1700 general labour and trades workers throughout New Brunswick, in over 8 Departments, including provincial parks and highway workers.