Fifty-one years ago, the Stonewall riots happened. Two racialized transwomen, Marsha Johnson and Sylvia Rivera, led the riots which energized the fight for equality.  With Pride Month, CUPE NB celebrates the resilience and activism of our LGBTQ2+ members and allies.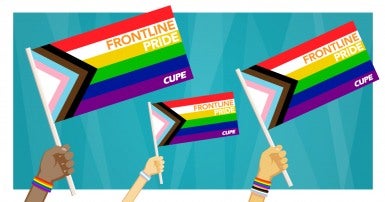 Today, Black, Indigenous and racialized LGBTQ2+ activists are spearheading the most radical cross-movement struggles since Stonewall, around the globe. More than ever, we need a "Frontline Pride" in our province, putting forward the fight to dismantle the homophobic, transphobic, white supremacist, colonial and ableist systems.
"Intersectionality" is a word that must resonate in our province as much as "Solidarity". For 2020, CUPE is using the Progress Pride Flag to highlight how racism, transphobia and homophobia operate together, and how activists at those intersections have led the resistance.
CUPE NB calls on employers and the provincial government to end conversion practises, build safer spaces, and support LGBTQ2+ grassroots groups dealing with Covid-19.
We cannot forget that Pride is political. Employers and governments try to co-opt Pride, but CUPE is part of the loud chorus for Queer Liberation, Not Rainbow Capitalism – a call that is made only more urgent by COVID-19.
ml/COPE491