Close to 300 delegates, observers and guests attended the 60th Annual CUPE New Brunswick Convention held in Moncton, April 18 – 22.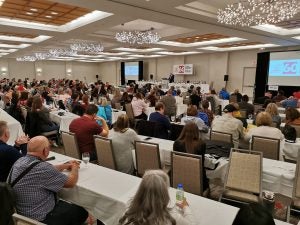 Delegates strongly endorsed a number of resolutions, updated the CUPE NB by-laws, and discussed cost-of-living issues, inclusion, diversity, and much more.
On Wednesday, delegates rallied in front of the Moncton City Hall to show their support for the NB teachers who are fighting for a fair negotiated deal. CUPE NB members were also present on the picket line of our PSAC Brothers and Sisters – Federal employees who began Canada's largest strike on April 19.
Delegates heard from guest speakers, including CUPE National President Mark Hancock, Secretary-Treasurer Candace Rennick, Daniel Légère, President of the NB Federation of Labour and Jane McAlevey, a well-known US union organizer and labour campaigning specialist.
Convention-goers celebrated Local 51 member Keith Hatto, who was presented with this year's Health and Safety Award. Local 1418 President Shawna Morton received this year's Women's Leadership Award.
Election Results
Stephen Drost was re-elected as CUPE NB President for another 2-year term. "This is a privilege I do not take likely, and I fully commit to protecting workers and public sector jobs," said Stephen Drost. "I wish to thank all members for their commitment to the labour movement and for their continued support," added Drost.
Serge Plourde, from Local 4193, was elected 2nd VP for CUPE NB. He is also the representative for small locals on the executive board, along with Jason Towers, of Local 3433. Justin Spooner, a member of Local 824 (part of Local 1253) was elected Trustee for a three-year term.
Moving Forward
During the next year, the Division aims to build on the solidarity among our locals. The Division will also work with other unions and community allies to strengthen public services for all.  Beyond pushing for improved labour legislations and wages that go above inflation for all workers, CUPE NB will keep a close watch on the coming provincial election in 2024 and a potential snap federal election. The Division remains committed to bargaining forward to build strong communities.