When:
September 5, 2019 – September 6, 2019
all-day
2019-09-05T00:00:00-03:00
2019-09-07T00:00:00-03:00
Where:
Truro, Nova Scotia

This event is part of CUPE's action in 2019 to increase the participation of Indigenous members in our union, and to give them a louder voice in the labour movement and in Canada. It is important that our Indigenous members (First Nations, Métis and Inuit) have a place of their own in the Maritimes and Atlantic regions.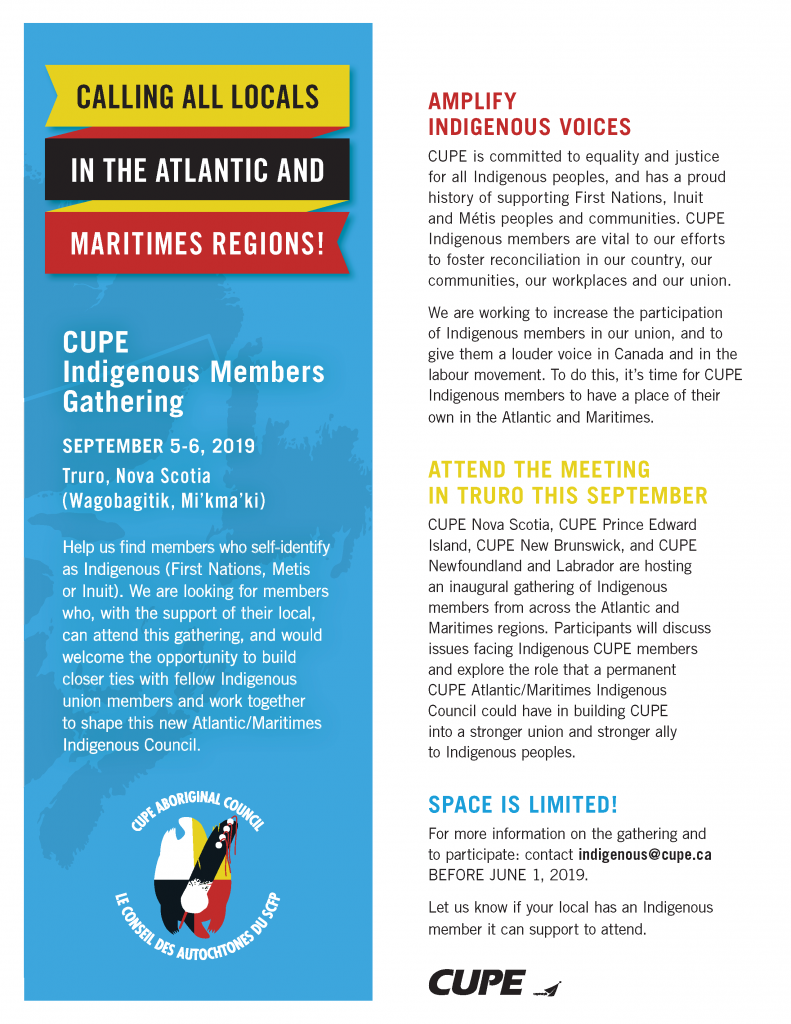 With support from the four division presidents and the NEB Diversity Vice-President Gloria Lepine, the regional representatives on CUPE's National Aboriginal Council are working to connect with Indigenous members in New Brunswick, PEI, Nova Scotia and Newfoundland and Labrador. The goal is to form a CUPE Atlantic/Maritimes Indigenous Council. A resolution in favour of the idea was adopted by delegates at the 2011 CUPE NB Convention, but the eastern regions are still the only ones in the country without such a body.
Indigenous members will gather for the first time in Truro on September 5 (full day) and 6 (half day) to work on this important project. Participants will discuss issues facing Indigenous CUPE members and consider how a permanent CUPE Atlantic/Maritimes Indigenous Council could help strengthen CUPE as a union and an ally to Indigenous peoples.
Doris Nason, our New Brunswick representative on the National Aboriginal Council will be at the Truro gathering with costs paid by CUPE National. Each division will send up to four other members, covering the cost for one of them. The three other members will need to be covered by their locals.
Help us in finding CUPE members who self-identify as Indigenous and providing support so they can attend this meeting.
Let us know if there is an interested Indigenous member who your local can support to attend the meeting in Truro by emailing us :
contact indigenous@cupe.ca  BEFORE JUNE 1, 2019.