When:
October 7, 2019 – October 11, 2019
all-day
2019-10-07T00:00:00-03:00
2019-10-12T00:00:00-03:00
Where:
Montréal, Québec
1001 Jean Paul Riopelle Pl
Montreal
QC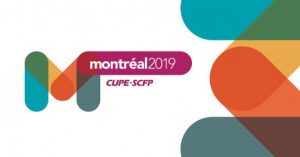 The 2019 CUPE National Convention convention will be held October 7 to 11, at the Palais des congrès de Montréal, Montréal, Quebec. This advance notice of the convention is being sent simply to allow your organization to plan accordingly. The official call for the 29th  CUPE National Convention (along with credential forms) will be emailed to you by JULY 9th.
Registration for the national convention will not open until AFTER the official call and credential forms are sent in July. please visit https://cupe.ca/advance-notice-cupe-national-convention-2019