When:
May 28, 2023 – May 31, 2023
all-day
2023-05-28T00:00:00-03:00
2023-06-01T00:00:00-03:00
Where:
Delta Saint John
39 King St
Saint John
NB E2L 4W3

Contact:
New Brunswick Federation of Labour
(506) 857-2125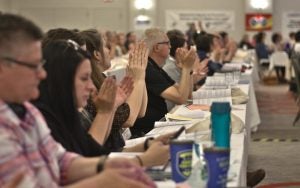 The theme of this year's convention is: "Workers Unite – Unions Now!" Please note that the NBFL will be sending all of these documents to you by mail in February 2023, which will also include your credential entitlement. Here is the link to the documents included in the Convention Call and Credentials for the 55th Convention of the New Brunswick Federation of Labour.
The Convention will be held at the Delta Hotel in Saint John, from Sunday, May 28th to Wednesday, May 31st, 2023 inclusively.  Registration will take place commencing at 11:00 a.m., Sunday, May 28th with the call to order at 2:00 p.m. that day.
Per capita tax to the Federation must be paid up to the end of 2022 before any affiliate can receive Convention Credentials. 
In forwarding credentials, affiliates are asked to pay strict attention to the criteria for delegates outlined in the Convention Call.  Credentials submitted on behalf of delegate(s) belonging to local unions not affiliated with the NBFL won't be accepted even if they are credentialed by an affiliated local.
An official list of Convention delegates will be printed but in order to be included on this list the duplicate (yellow) credential must be in the hands of the Secretary-Treasurer no later than Monday, May 8, 2023, along with the $300 per delegate registration fee.
If you have symptoms of Covid-19, please do not attend the convention. The NBFL has a responsibility to protect the health and safety of its members and staff. As such, we will be following any provincial government-recommended measures in place in May 2023.
Please note that the deadline for submitting resolutions to the Convention is April 28th, 2023.  This 30-day deadline will be strictly observed and late resolutions will not be accepted.
The deadline for hotel reservations is April 28th, 2023. After this date, the rooms will be made available for public sale.  Reservations must be made directly with the hotel and will not be made through the Federation office.  You must indicate that you are attending the New Brunswick Federation of Labour Convention.
The NBFL requests that all affiliates stay at the Convention hotel to avoid cost overruns. The Convention meeting room price is directly related to the hotel occupancy rate. Cost overruns may lead to increased Convention registration fees in future years.
Please note that the enclosed hotel rates do not include HST.  When making reservations, delegates should request our Convention rate.
Fraternally,
Brian Duplessis
Secretary-Treasurer, NBFL