When:
October 21, 2021 @ 7:00 pm – October 22, 2021 @ 8:00 pm
2021-10-21T19:00:00-03:00
2021-10-22T20:00:00-03:00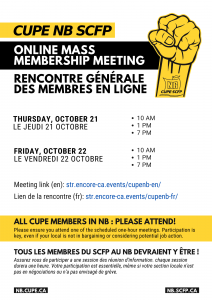 It's clear, members of 10 big provincial locals voted overwhelmingly in favour of a strike if no fair deal is reached with the province. Altogether, the average vote was 94% in favour.
This is why you are invited to participate in one mass membership meeting (1-hour session) either on October 21 or October 22. This is to prepare for coming job action.
Sessions start at 10 am, 1 pm & 7 pm on both days. No registration is needed, just open this meeting viewing link at the start time of your choice: https://str.encore-ca.events/cupenb-en
All CUPE members are invited, even if you are part of a local who is not in bargaining or considering potential job action. The event is free, no registration is required.
Sessions on 21 October: 10 am, 1 pm, 7 pm
Sessions on 22 October: 10 am, 1 pm, 7 pm
Link to view each session: https://str.encore-ca.events/cupenb-fr/
Facebook event link: https://www.facebook.com/events/4302048526517512/