When:
April 13, 2022 @ 12:00 pm – May 3, 2022 @ 12:00 pm
2022-04-13T12:00:00-03:00
2022-05-03T12:00:00-03:00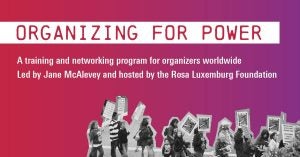 There's no time like now to strengthen your union to face the challenges of the moment. This is why you are invited to the Organizing 4 Power training session.
Registration is now open until May 3, 2022 for Organizing for  Power's Core Spring/Summer Fundamentals Training.
More than 20,000 organizers from 110 countries have taken their core courses, where teams – not individuals – participate as parts of groups working together to organize for power.
This upcoming training, which launches May 10 and runs six consecutive Tuesdays until June 14, builds on the core organizing concepts of what it takes to win hard battles in today's class war, including our obsessive focal points of leader identification, semantics, structured organizing conversations, charting, and structure tests.
Learn more about the program here, and register your group of 10 or more by our May 3 deadline to join our global community organizing to build the power required to win.
VIDEO: WHAT WINNING LOOKS LIKE
Check out this video for a good example of the kinds of victories that groups taking OP4 courses are achieving. It's a great way to introduce your colleagues to what we mean by organizing to win.
In this pilot episode, we talk with German hospital workers who just won a groundbreaking collective agreement through rigorous preparation and the power of the strike. A number of these hospital workers took the most recent O4P training to prepare this inspiring campaign.
Follow OP4 on Twitter: https://twitter.com/rls_organizing
Facebook: https://www.facebook.com/groups/organizing4power